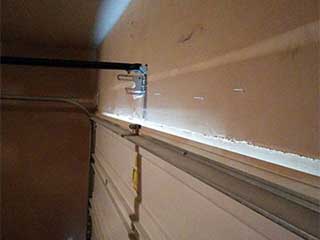 Springs can be damaged in a variety of different ways, and even the sturdiest, most reliable door can suffer from a few issues. When such problems occur, it's best to call our specialists immediately, in order to prevent things from getting worse. If you've ever wondered just how these components can become damaged or broken, here are some of the major causes:
Gradual Wear And Tear
The biggest reason why springs suddenly snap is the accumulation of minor damages over a long period of time, otherwise known as: wear and tear. Even springs of the best quality can usually only withstand about 10,000 work cycles (a work cycle is the process of the door going all the way up and then all the way back down, once). Although that may seem like a lot, your door is probably going through two to four work cycles every day, which means roughly between 800 to 1,400 a year. That brings the overall total to approximately seven years, and that's without taking weather conditions and various other influencing factors into consideration.
Accumulated Rust
Rust can drastically shorten the lifespan of your springs. This is because the corrosive action makes the coils grow weak and fragile. To help the lifespan of your spring, spray it with WD-40 (or a similar product) every couple of months. Even doing this won't necessarily prevent rust entirely, so you should still get your springs regularly checked by our specialists. Remember - handling these components can be extremely dangerous, so leave any repair or replacement work to our expert technicians.
Buying Cheaply Made Products
It goes without saying that your springs aren't going to last as long as they should if you buy them from the equivalent of a back-alley salesman. Quality, unfortunately, does cost. At least initially. In the long run – and this statement is relevant to virtually every mechanical product – higher quality components will last longer than their cheap counterparts, and however higher their price may be, you'll more than likely save that much, if not more, on repair work.
Call our professional technicians from Garage Door Repair N Salt Lake today. We can fix all of your spring related problems with speed and efficiency.
But wait, there's more! We also offer:
Garage Door Safety Inspections
Screw Drive Opener Replacement
Garage Door Cable Replacement
Overhead Door Repair & Installation