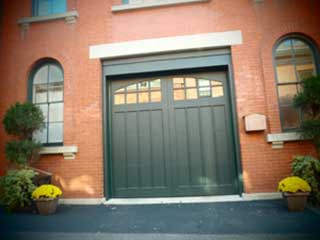 A garage door is an important part of every home. It could be used as a storage area, a place for your various projects, or even a sort of playroom where you could set up a foosball table or something similar. Teenagers especially like to use their home's garage as a sort of improvised gym, or a place for their band to rehearse. However, having a safe and secure garage is important, and various indoor and outdoor activities can potentially lead to garage door related issues. There are ways to avoid these problems, however.
No Horsing Around

It's one thing to use the garage for various purposes, it's another thing to play around aimlessly inside it. Advise your children not to play with the control button of your garage door because they might accidentally cause it to malfunction, or worse, get hurt by it.

Take The Right Precautions

To keep your kids from playing with your door, you can also have the control panel installed beyond their reach. Somewhere convenient for you but impossible to get for them.

Get Better Acquainted

Read your door's owner manual in order to properly understand its various parts and features. There are lots of things to know when it comes to garage doors, from proper maintenance techniques to all sorts of special capabilities. It'd be worth your time.

Routinely Ensure it's Safety

You can also conduct a safety test of the system's sensors and reverse mechanism every now and then by placing objects in the door's path. Functioning sensors should be able to detect the object and will prevent the door from closing, or reverse its operation shortly after it starts to close. If the door still continues to close, call our professionals immediately. Your system isn't safe to be used.
Another aspect of the reverse mechanism is the force-resistant detection. That means that your door should automatically reverse if it tries closing but is unable to due to a physical obstruction. The purpose of this feature is to prevent the door from crushing any object or person that gets stuck in its path, even if that obstacle isn't detected by the safety sensors.

Seek Professional Assistance

To be certain your door is in the best possible condition, you can schedule regular inspection appointments. Our expert technicians will examine every inch of your system and will quickly replace every part that is found lacking. They'll also perform all the necessary adjustment and lubrication, to ensure that everything is in the best possible shape.
So make sure that your garage is working properly and safely. If not, call our experts ASAP for prompt garage door repair.