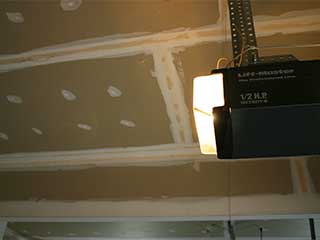 Getting a garage door opener is great. It makes the operation of your door completely automated. That means all you'll need to do is push a button on the remote control or the wall-mounted keypad, and the door will opener or close accordingly.
It will, of course, need to match your door in terms of horsepower output. The heavier it is, the more horsepower will be required. Modern openers come equipped with various types of advanced features, such as rolling code technology, safety reversal system smartphone compatibility.
All in all, they can be an excellent investment. But what if something goes wrong?
We'll Take Care of Everything
Whether it starts running slowly, gets stuck or simply makes terrible noises while it operates, there is nothing more frustrating than a malfunctioning opener; especially when you're in a hurry to get in or out of your house. The wisest thing to do in such a scenario is to get in touch with us straight away. If the problem requires urgent attention, one of our emergency garage door repair teams will come to the rescue as soon as possible. We are fully equipped to resolve any type of issue from the smallest adjustment to the most complex replacement.
Swift and Effective Problem Resolution
Our experts follow specific guidelines which enable us to complete any assignment quickly and effectively. We begin with inspecting the device to identify the actual cause of the problem. It takes us very little time to detect a broken gear or a misaligned safety sensor. We cover absolutely all types of devices regardless of their manufacturer.
On The Spot Solutions
Once we know the cause of the problem, we will produce and implement the best possible solution. We have a warehouse full of replacement parts so we can readily replace a damaged component of every make and model. If necessary, we can replace the entire opener as well. Replacement is most often required when the existing device is damaged beyond repair or has become seriously worn-out or outdated. We can help you find the quietest belt drive unit or the fastest model in the market.
Whenever you find yourself in need of professional assistance, our experts at Garage Door Repair N Salt Lake are here for you.
Call us to get professional assistance without delay!
Need more? We also provide:
Roll up Garage Door Maintenance
Belt Drive Garage Door Openers
Torsion Spring Adjustment
Track Replacement & Repair